Regular price
Sale price
$21.50 USD
Unit price
per
Sale
Sold out
FENCER GLOVE: COWHIDE LEATHER TOUGH WORK GLOVE FOR THE TOUGH JOBS.
Made from Heavy Duty Cowhide work glove leather.
Look no further!! People are obsessed with this iron fencer leather glove. The heavy-duty Golden Stag leather work glove is golden soft and very durable.  These leather Fencing gloves are the toughest work gloves and the best glove for barbed wire. You will be able to accomplish those jobs fast and efficiently.  All the while, keeping your hands protected.
This glove is our best selling leather ranch work gloves. Everyone who used this glove raves about how much they love it.  Wait no longer, get you a pair today! We also sell leather work gloves in bulk.

Iron Fencer Benefits:
-Keep your hands protected and fresh with Gold Grain Cowhide leather.
-Grab and handle the toughest jobs with the Grain Double Palmed.  These are thick work gloves! Great Rancher Glove.
-Get all the things handled without wounds because of the Index Finger and Thumb Patch
-Easy on and off Rolled Cuff
-Feel part of the crown with the Golden Stag Iron Fencer Logo on Thumb
Glove Sizing xs-xxl work gloves
Best Glove Ever! Marco(customer Review)
"I've been using elk hide gloves from a local Co-op for years, as they stand up really well to barbwire and rough use.
However, these gloves were recommended by my son, so I ordered a pair, and totally agree; much tougher glove, with double layers where normal wear usually happens. These are also more comfortable, with a better fit, at least for my hands. They've now become my go-to glove for tough jobs."
 Join the club and grab you a pair of iron fencer gloves TODAY!
If you are looking for the best leather winter lined glove, check out the 207F. Iron Fencer Fleece Lined Winter Glove. If interested in bulk leather work gloves, send an email to shop@goldenstagglove.com
Share
View full details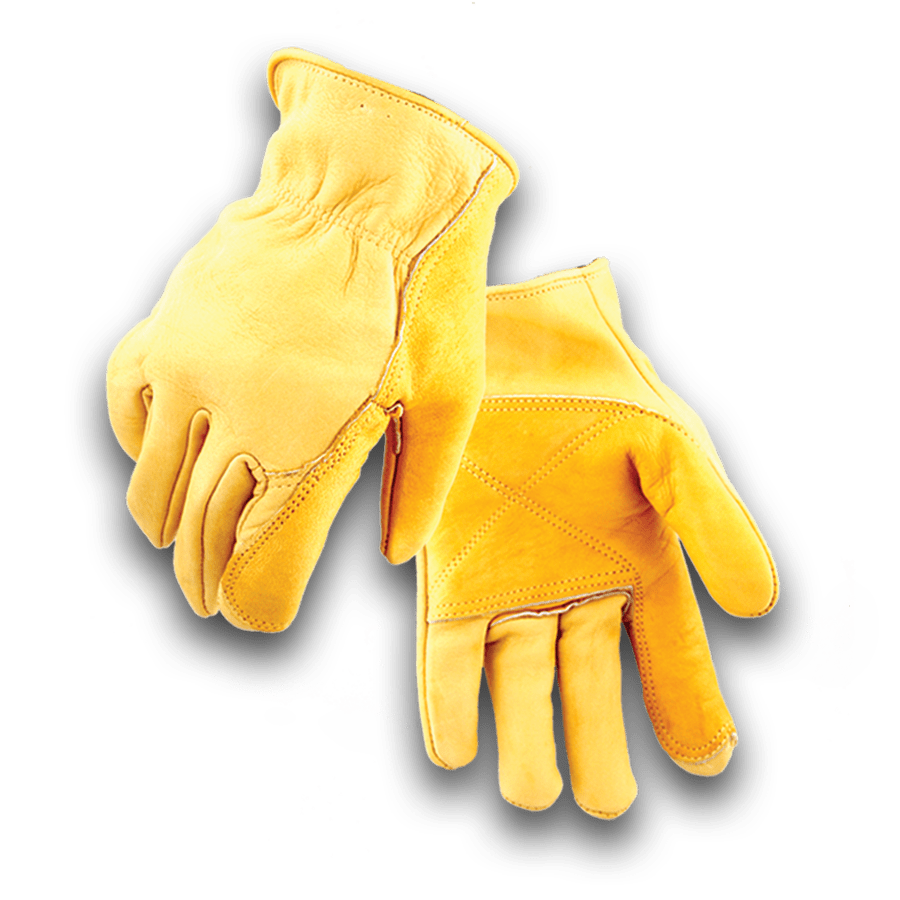 Great Bushcraft gloves
I purchased these gloves to use at Survival 101 course. These gloves were fantastic. Procuring dead limbs often with thorns for tinder/fuel, striking fires, grabbing burning logs to reposition for better burn, general camp chores. Also provided a mid amount of warmth since it rained and temps where in the 50's. These gloves are well suited for bush craft and are thick enough if needed for rappelling. Would recommend 10/10. The price is right, sturdy, and high quality compared to European brands costing 5x as much. Bought a pair for everyone in the house.
Excellent gloves
These are my favorite fencing gloves and I buy a couple pair a year. Most places don't carry my size (s), but thankfully I can buy them direct from here
Durability test
I first came across these gloves on a trip to Glacier National Park. I have run through the ones I bought there. This new pair I dated the start date. I wear them everyday. Finger tips wore out on the last ones. But the stitching never has which is a problem on other brands. Also like that they are completely leather. Tried some with synthetic back. If you like thorns in the back of your hand that's your choice. Will report back on durability life span. Otherwise great product I specifically searched these out to buy more.
awesome gloves
These are by far the best work gloves i've ever used. They are super durable, very comfortable from the moment you put them on. These are the only gloves I will wear. I'm so glad I found them. I recommend them to everyone.
Tough, tougher, AWESOME
Briars, barbed wire, working around farm. Saves my hands. Well made, good leather, stitching.