Regular price
Sale price
$23.99 USD
Unit price
per
Sale
Sold out
Golden Stag Work Gloves Grip - Red Mesh All-Purpose Mechanic Glove
If you're looking for a work glove with grip, the Golden Stag Work Gloves Grip is a great choice. Whether you're a mechanic or a construction worker, this glove will provide the comfort and protection you need to get the job done.
Features of Work Gloves Grip:
Silicon Grip Palm- Great for woodworking
The silicon grip palm provides excellent traction, giving you a firm hold on your tools and materials. This is especially important for tasks that require a strong grip or when working with slippery materials.
Mechanic Work Glove with Red Mesh Back
The red mesh back allows your hands to breathe, preventing them from getting too sweaty or overheated during prolonged use. This feature also makes the Work gloves grip more lightweight, enhancing your mobility and flexibility while you work.
Velcro Wrist Strap
The velcro wrist strap ensures a secure fit, preventing debris and dust from entering the glove while you work. It also makes the glove easy to put on and take off.
Terrycloth Thumb for Sweat Absorption
The terrycloth thumb is designed to absorb sweat, keeping your hands dry and comfortable throughout the day. This feature is especially important for jobs that require prolonged glove use or when working in hot and humid conditions.
Whether you're a professional or a DIY enthusiast, the Golden Stag Work Gloves Grip is a reliable and versatile work glove that will help you get the job done. Get your pair today!
Share
View full details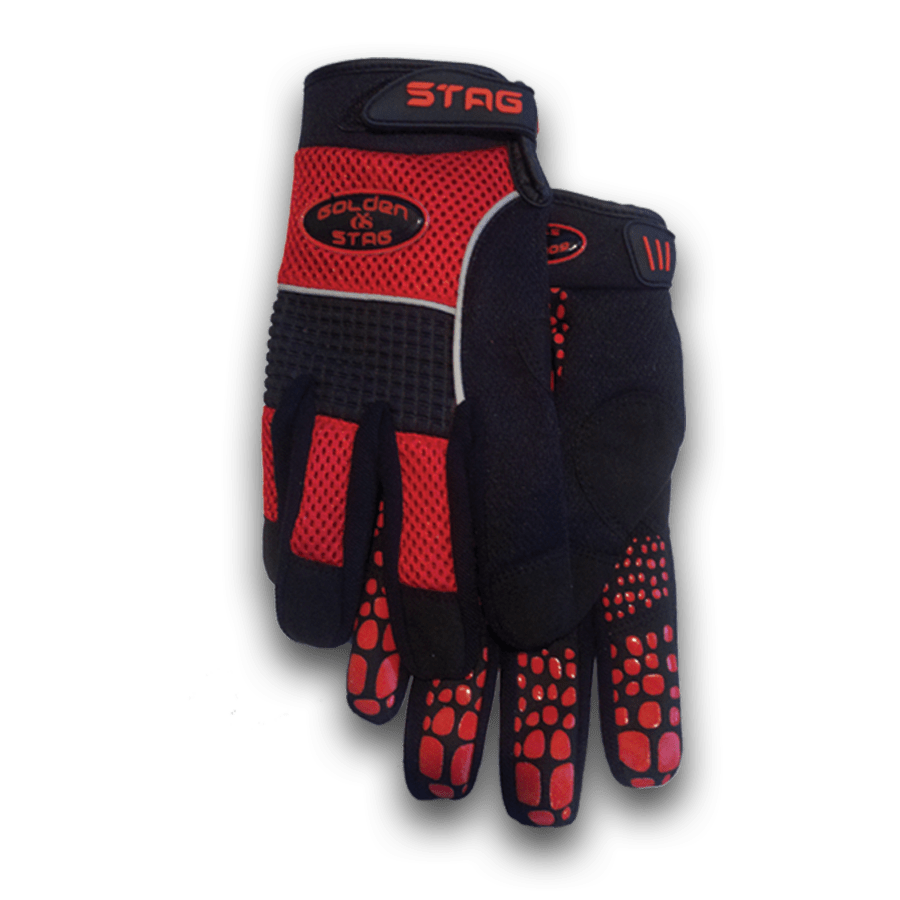 Glove quality
I really like the style and light weight of the gloves, they are great for what I use them for, which is riding motorcycle...however, they don't hold up very well...they tare at the seem at the top of the glove very easy, the velcro wears out quickly...I'd sad the fit is good, the style is great, but the quality needs great improvement.