Regular price
Sale price
$36.99 USD
Unit price
per
Sale
Sold out
Leather Glove Man 208- USA Made Cowhide 
Experience Unmatched Protection and Comfort with Our Made in the USA Cowhide Leather Work Glove
Introducing the Golden Stag Leather Glove for man- the perfect glove for all your work and gardening needs! Our chocolate cowhide double palmed work glove is made in the USA with the highest quality materials and craftsmanship.
Rugged and Durable Double Palm Design: Great Leather Gloves for Working
The double palm design provides maximum protection and durability, making it perfect for tough jobs in farming and ranching. The cowhide leather is known for its ruggedness and resilience, ensuring that the leather gloves for working can withstand heavy wear and tear, and are built to last.
Cowhide Leather Work Gloves: Comfortable Fit and Flexibility
But don't let its ruggedness fool you – these leather gloves for the man are also great for gardening! The comfortable fit and flexibility make it easy to maneuver and work in your garden with ease. The soft and supple texture of the cowhide leather conforms to the shape of your hands, providing a snug fit without compromising mobility.
Made in the USA with Top Quality Cowhide Leather
At Golden Stag, we take great pride in our Made in the USA products. Our leather gloves man made in the USA are crafted by skilled artisans who use only the finest materials to create products that are built to last. These gloves are no exception – the double palm design and chocolate cowhide leather provide both protection and comfort, ensuring that you can work for hours on end without fatigue or discomfort.
A Great Glove for Farmers, Ranchers, and Gardeners Alike
Whether you are a professional farmer, rancher, or simply an avid gardener, the Golden Stag Leather Glove man is an essential tool that you won't want to be without. With its unbeatable combination of quality, durability, and versatility, you can be confident that you are making a wise investment in a product that will last you for years to come.
Buy the Best Cowhide Leather Glove Man Made in USA Today!
You won't regret buying a pair of leather gloves made in the USA! Thank you for choosing Golden Stag – we can't wait to see what you'll accomplish with our leather work gloves!
Thank you for choosing Golden Stag – we can't wait to see what you'll accomplish with our leather work gloves!
This leather glove is also available in a winter lined glove.
Share
View full details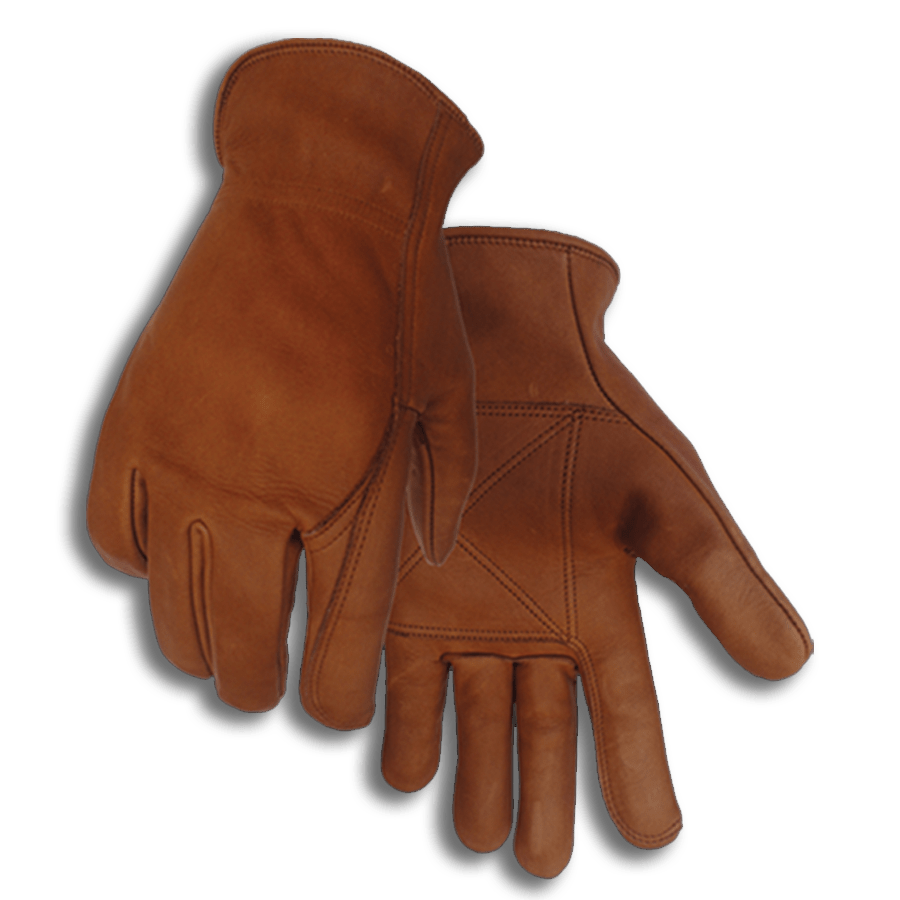 Cheaper in the long run
I don't write reviews, however I think it bears commenting on this topic. As a yankee I have a hard time throwing things away. So, I have a box filled with work gloves with holes and split seams which I'm about to empty into the garbage. How frustrating it is to search the hardwares store's inventory for a pair of work gloves that can last more than one or two tasks? Really, it's a Bain to my existence. By a fluke one day a couple years ago I bought a beautiful pair of leather gloves for motorcycling. They happened to be Golden Stag. I've loved them and marveled at there craftsmanship. The store doesn't carry them anymore because the price point was too high. It's a shame. For they have lasted so long their value increases with time still in service.
Thankfully, Golden Stag is available through their website. Now I wear them more readily without fear of wearing them out. In fact, I use them hard a little to break them in.
They are a fine and beautiful possession for a man who appreciates fine and durable things. But for the miser a wiser purchase than that of box store planned obsolescence.